The Cool Oldies 1450 Team
Michael Betteridge – General Manager
Accounting – Betty Troxell
DJ Kemosabi Joe
DJ Bigg Mike – Promotions Manager
DJ Cruizin' Chris – Assistant Program Dir.
DJ Nick Brady
DJ Gene Reid
Chad Merrill – Meteorologist
William Warren – Director of IT Services
Bob Steele – Consultant
Program Hosts
Kemosabi Joe    Morning Drive 6 to 9am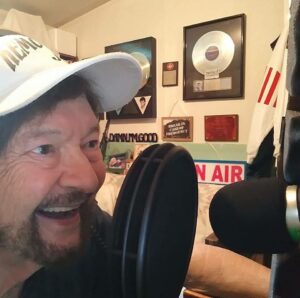 Kemosabi Joe is a long-time radio name around Frederick County from back in the 70's & 80's. Before his move to Dallas-Ft. Worth to do mornings there, he was the Program Director and morning man for the Hot Rockin', Hit Crankin' Z-104 in Frederick for almost a decade. Kemo & his wife have lived all over the country from their meeting in North Carolina, to the days in Charlotte, then Augusta & Columbus, Ga, Columbia, SC, Tallahassee & Ocala/Gainesville, Florida, Myrtle Beach & Greenville-Spartanburg, SC, West Virginia, Reno, Nevada & probably a few other places he doesn't want to admit to. Kemosabi Joe was a 2 TIME WINNER OF NATIONAL BOBBY POE POP MUSIC SURVEY'S NATIONAL SMALL MARKET D.J. OF THE YEAR AWARD AND SOUTH CAROLINA'S BROADCASTER'S ASSOCIATION LARGE MARKET AIR PERSONALITY OF THE YEAR WINNER, also while at Z-104, while Kemo was programming and was the Morning man, they won BILLBOARDS MAGAZINE'S  STATION OF THE YEAR. For the last 20 years Kemo, his wife Donna, daughter & her husband live on the Eastern Shore of Maryland. Loving the Oldies as much as anyone, he's incredibly excited about playing them for everyone here in the four-state region on Cool Oldies 1450.
Bigg Mike   Daytime Drive  9am to 2pm
Bigg Mike has been an aspiring DJ since his young days working at The Starland Roller Rink in Hagerstown, MD.  From there he went on to become the DJ/VJ (Video Jockey) at one of the biggest nightclubs in the Hagerstown, MD area in the 80's The Tortuga Lounge where he played all the latest music videos.  Bigg Mike also worked for many of the Tri-State's radio stations over the years including WAYZ, WARX, WYII, WKMZ, WRGG and was also the program director and show host on Oldies To The MAX 92.9FM in Hancock, MD in 2018-2019.  Checkout Bigg Mike On-The-Air weekdays from 9am-2pm
Tyler Wilhelm  High School Sports Scoreboard Sat. 11:30am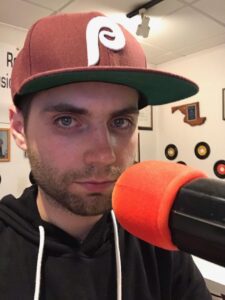 Tyler is a local success story!  A 2016 Graduate from Catoctin High School he went on to continue his education at Frederick Community College and then finished his Batchelor's degree in Sports Communications at Shepherd College in 2021.  He joined us in 2020 and immediately began sports play by play announcing and production.
Chris Leon   Afternoon Drive  3pm to 7pm
Originally from New York. Cruizin' Chris' love of oldies music started with his Dad, who always played 45's and 33's on his record player. Radio was always a love, as he used to pretend to be a D
J using his Dad's record player. Chris is happy to be sharing his love for oldies music in the community he lives in and loves. When not playing music on the radio, Chris is an avid sports fan (Mets, Jets, Nets, and Islanders) he also enjoys taking care of his pet frogs, and spending time with his wife, and two beautiful daughters.
Gene Reid    Muscles of Soul  Sat. 3pm
Gene was born and raised in the Pittsbugh PA area .  He was a radio DXer and his favorite hobby was picking up the signals of the large 50,000 clear channel stations at night.  During the 50's and 60's Pittsburgh was a fertile breeding ground for oldies and doo wop music. Gene developed a passion for this music and lived with it, ate with it, and slept with it.  As an adult, he decided he wanted to MC his own radio show.  After receiving his Master of Public Administration (MPA) from American University in 2003, he landed his first broadcasting job at WPFW in Washington DC.  He is currently on the radio every Saturday at 3pm on COOL Oldies 1450's Muscles of Soul.
Nick Brady     The Brady Brunch   10am to 2pm
Nick, born in Baltimore, spent his teenage years in Littlestown, PA. where he graduated high school many, many years ago. Upon graduating from college, he taught foreign languages in the Carroll County, MD school system.
He left teaching school to fulfill his military obligation and then was a Maryland State Trooper, retiring in 2003 with thirty-three years of service. After retirement he taught criminal and constitutional law at a York County high school.
It was during this time that he got the chance to do what he had dreamed of doing ever since he was a teenager. He took a job as a part-time board operator and on-the-air radio personality at AM 1320 WGET in Gettysburg. He stayed with the station until it stopped local broadcasting, becoming a satellite-fed sports network. He also was the owner of the Grease Release Disc Jockey Company a mobile DJ service, focusing on music from the fifties and sixties, providing musical entertainment for wedding receptions, reunions, anniversaries and other parties.
Nick's hobby is collecting 45 rpm records. The first record in his collection was Elvis Presley's Hound Dog and Don't Be Cruel. His brother, Grady Brady, gave him that record for Christmas in 1956, when Nick was in the third grade.
Nick and his wife, Sadie live in York, PA.
____________________________________________
Pastor James Coblentz – Pioneer Baptist Church
Gary Cox – Family by Design
Joel Fischer – Family by Design
Donna Betteridge – In Memory Of
Michael Betteridge – College/High school sports announcer
Tom Geppi – High school sports announcer
Rick Little – High school sports announcer
Michael Rajnik – High school sports announcer
Hollis Zimmerman – High school sports announcer